Mother's All-Natural Intensive Restorative Oil
Regular price
RM149.00
Sale price
RM149.00
Unit price
per
Sale
Sold out
A Rich Blend of Organic Rosehip & Camellia Oils, Fortified with Olive Squalane & Vitamin E for Intensive Restoring of Stretched or Stressed Skin.
A fortified blend of the finest restorative organic oils for boosting the care of sensitive, stressed or stretching skins. Organic Rosehip Oil and Organic Camellia Oil have been traditionally used for centuries for their excellent reparative qualities due to their rich essential fatty acids, powerful anti-oxidants and their density of skin-enhancing vitamins C and E. With the added richness of Natural Olive Squalane and a combination of non-GMO Natural Vitamin E tocopherols, this enhanced oil contains skin-moisturising benefits which enhance the retention of moisture in the skin, and help restore suppleness and elasticity.
Benefits
Excellent as a rich face and body oil for mothers and mothers-to-be or any skin experiencing particular tension, strain or stress, and requiring greater moisturising and protection. Apply at least twice a day as a rich alternative to a cream or lotion; or add to an existing cream or lotion as an intensive booster.
This incredible elixir contains everything that stressed, stretched or tired skin needs to feel rejuvenated, plumped up and glowing. Besides pregnancy skin, it works fabulously for:
Fine wrinkles around the eyes and mouth. Just dab a little carefully to the affected areas, be sure to use it twice a day, every day.
Dry, tired, mature skin, especially around the face and neck. Just apply a small amount with gentle upward strokes.
Dehydrated and sun-damaged hands. Apply a small amount twice a day, massaging into every nook and cranny.
All-over glowing goodness! All you need is a small amount, warmed in the palm of your hands (or added to your existing moisturiser) and applied gently in an upwards and circular motion wherever you need an extra boost.
Prefer to read this article online? Click here!
Directions:
Warm a small amount in palms of hands before massaging into skin in gentle upward strokes on and around affected skin. Re-apply as needed or when skin is particularly stretched, tired or stressed. Safe and suitable for use anywhere on the face or body.
Ingredients
Certified organic camellia oleifera (camillia) oil, certified organic rosa canina (rosehip) oil, olive squalane, d-alpha tocopherol & tocopherol (natural vit. E non GMO), organic rosemarinus officinalis (rosemary) CO2 extract in organic helianthus annuus (sunflower) oil.
Conclusion
All oils used by Four Cow Farm are premium extra-virgin cold-pressed quality and all preservatives and emulsifiers used are premium food-grade.

Learn more about our handcrafted approach and ingredients.
Share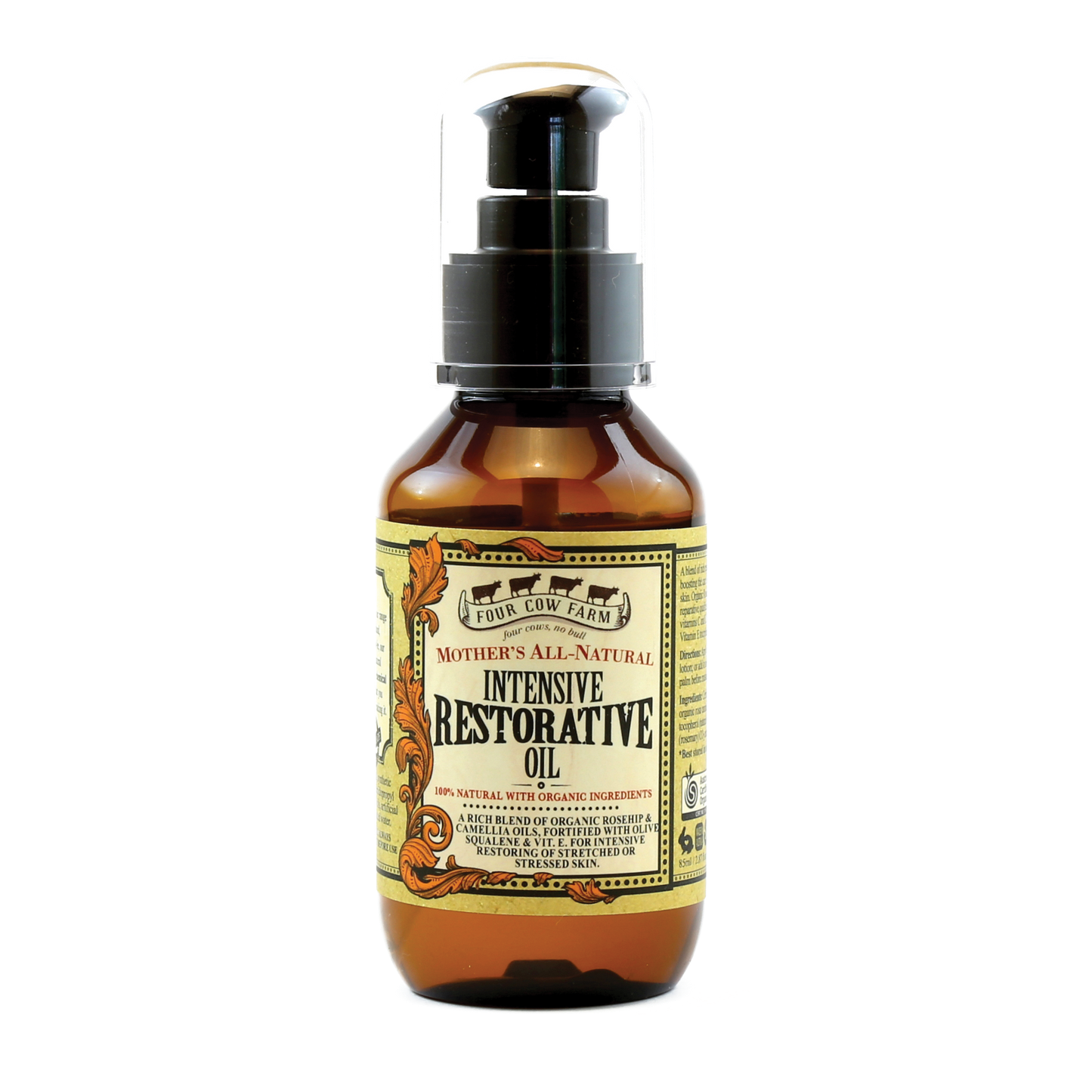 Healthy skin
Use it every night with their mother's lotion and feel the skin getting moisture and better. Smell good to me
Thank you for your lovely feedback! We're glad to hear that Our Mother's Oil & Mother's Salve are helped, Kay :)
Light yet relieving
Natural smell, adding comfort especially applying after showering, can relieve tight skin instantly, skin remain moist even after a night sleep
Thank you very much for your review Burnie! So glad to hear you're enjoying it :)
Good for pregnant moms
Reduce the itchiness of pregnant bump, keeps the stretched skin moisturised and prevents stretch mark
Excellent product and good service
Will continue to support this brand.
Frequently Asked Questions