Traditional Castile Calendula Wash
Regular price
Sale price
RM149.00
Unit price
per
Sale
Sold out
Made especially for sensitive skin and hair. A 100% pure, handcrafted castile wash made only from extra-virgin cold-pressed olive oil and organic calendula extract. Free of preservatives, artificial additives and foaming agents.
Gently infused with organic calendula extract, this wash is excellent for strengthening and protecting the most fragile skin. Free from foaming additives, fragrances and preservatives, this 100% pure castile soap wash is slowly double-cooked over weeks at a very low temperature, so that it retains all the antioxidants and benefits of its ingredients.
Benefits
Excellent for the whole family, from adults to children, as a daily nourishing and soothing all-over hair, face and body wash that's rich and moisturising. Gentle enough to be used on hair without the need for conditioners. Excellent for sensitive, fragile or damaged skin, dry hair or scalp or those sensitive to chemicals.
Directions
Wet hair and skin thoroughly then place a small amount on a sponge or palm of hand. Apply gently, stroking into skin and avoiding contact with eyes. Rinse with water. To lather, work-up with a washcloth before applying. Alternatively, add directly to bathwater.
Ingredients
Purified water, saponified 100% extra virgin cold-pressed olea europaea (olive) oil, certified organic calendula officinalis (calendula) extract, citric acid (from citrus fruit)

Note: The calendula used in our Calendula Wash is a premium food-grade organic calendula extract, used for it's beneficial properties, not as a calendula perfume or scent. 
Conclusion
All oils used by Four Cow Farm are premium extra-virgin cold-pressed quality and all preservatives and emulsifiers used are premium food-grade.

Learn more about our handcrafted approach and ingredients.
Share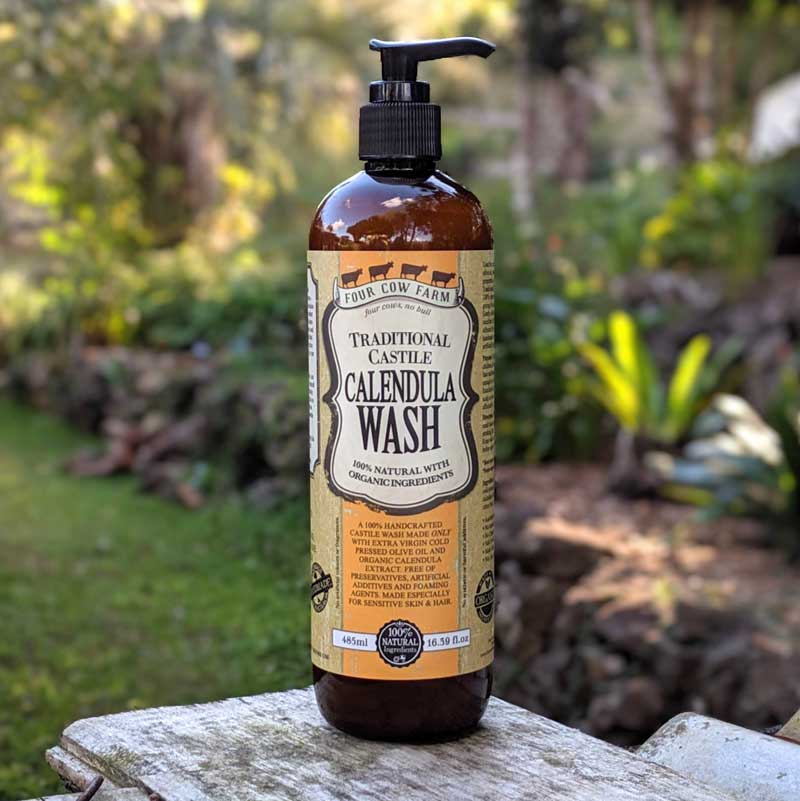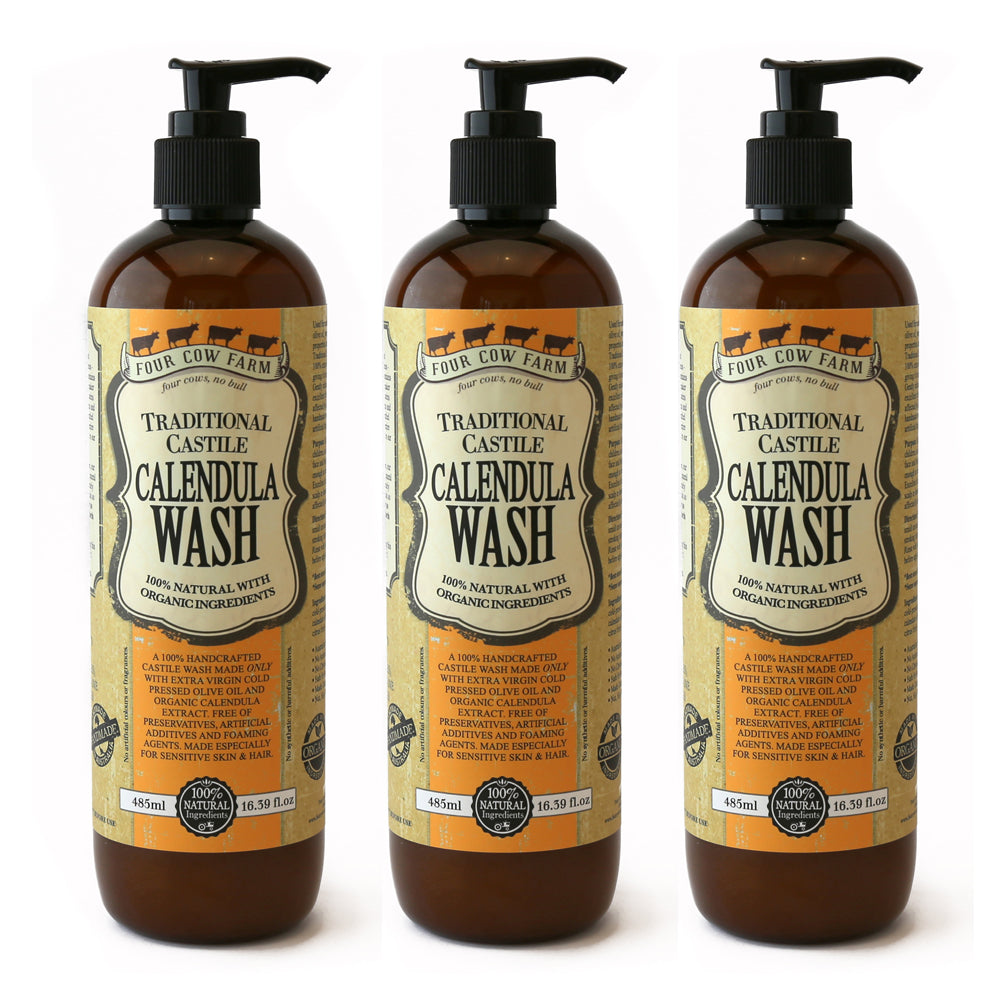 Good
Its an awesome product. Love it. My skin immediately can feel the effect after applying it to my skin.
We're glad that our Calendula Wash is helping your skin, Jenny Thank you so much for your review !
Feels good
It's good that it doesn't lather or foam much. doesn't feel drying at all. Finding it Gentle on sensitive and eczema prone skin. A little pricey though
So glad to hear our Calendula Wash's helped. Thank you so much for your feedback :)
Non drying castile wash
Skin feels clean after wash and won't feel "pulling" on eczema skin prone area and also eczema patch.
The glitch is the dispenser. The liquid tend to shoot far whenever I pump.
Great hair and body wash for my daughter !
Great hair and body wash for my daughter as she has sensitive skin. Been using Four Cow Farm product since she was 4 years ago when she had terrible eczema attack. We couldn't find any suitable range of skin care for her until we found FCF and it gradually improves her skin condition and eventually eliminate her eczema nightmare. We also use FCF body lotion for her after her bathing session for moisturization and will continue to use organic FCF product as long as we can. Thank you !
We're so glad to hear our wash is helping your daughter! Thanks so much for writing in :)
Feels too squeaky clean
If you like the feeling of squeaky clean, then the body wash is for you.
I'm not a big fan of that feeling and prefers something less dry feeling to the skin after my shower. The pump bottle is a lol problematic as it couldn't dispense too well, slightly too watery for my liking.
Frequently Asked Questions