Our ethos
Highest quality of oils: Premium Food-grade

Most oils in skincare are cosmetic grade which is a degraded, lower quality of oil, even if organic; and most oils - yes, even food oils! - are extracted with heat and petroleum derivatives. At Four Cow Farm, we only use premium food-grade oils (designated the very highest quality of produce a farm can produce) and we only use extra virgin cold-pressed oils, which are mechanically pressed cold from the first harvest of the fruit.

The beneficial effects of an oil are delicate, we know that the first cold-press will contain the highest concentration of active ingredients. Most lower grades of oil contain low to no original key benefits, having being damaged or lost through the extraction process. The other factor is safety, the petroleum derivatives used in extraction can be harmful and having those absorbed by the skin, or worse ingested by a little one makes using anything less than premium food-grade an an absolute no at Four Cow Farm.
Highest concentration of key ingredients

Each product is crafted to provide the highest concentration of the key effective ingredient in it. So, unlike other balms which are hard and firm, our balms are soft and creamy as they have a minimum amount of beeswax and the maximum possible oil content, which contains the nourishing and protective qualities which are the key effective ingredient.
Highest quality of water

All our lotions and creams contain mountain rainwater collected and purified at our farm which means it's free from chlorine, chemicals, and other additives, it's the purest form of water. Other lotions and creams use simple tap water, which contains all the chlorine and chemicals added at processing plants.
Highest quality of production

Besides being an audited Australia Certified Organic processor we have a unique manufacturing process to ensure our products maintain the beneficial properties of it's key ingredients. How do we do this? All our skincare is made over very low heat with much longer production times than normal skincare manufacturers. We do this to preserve the quality of the ingredients since the higher the heat ingredients are exposed to, the more their beneficial qualities are damaged or lost entirely. The vast majority of commercial skincare is done production-line style as quickly as possible using high heat and highly processed ingredients in order to keep costs low, processing times short and expiry dates long. This the polar opposite of our production ethos.
Highest quality of extracts and essential oils

Where we do use extracts and essential oils, we use completely pure forms which contain no additives, hidden preservatives or fillers. Most extracts and essential oils used by skincare manufacturers contain preservatives and fillers to extend their shelf lives or make them less expensive and as they are part of the ingredient, do not have to be declared on the ingredients list!
Sustainably made skincare

All the energy used on our farm is 100% green solar & wind energy. The water we use is purified mountain rainwater collected on our farm itself. Nearly all of the water we use is recycled for different uses around the farm. We only use recyclable or compostoble packaging in our products, and only soy-based ink. It's our responsibility and commitment to making our skincare as sustainably as possible.
Our Approach
Our skincare range is lovingly handcrafted at our family farm from the finest pure, genuine and natural ingredients. Every product is made from Nanna's own handcrafted recipes, and the family continues to oversee every step of the making of the products, with every Four Cow Farm ingredient personally chosen and sourced by Nanna herself. Four Cow Farm is an Australian Certified Organic processor – meaning our workshop and facilities where we handcraft our range have passed the stringent criteria set by the ACO.
Our products contain no parabens, propylene glycol, sulfates (ALS/SLS/SLES), cocamidopropyl betaine, artificial fragrances or colours, synthetic detergents, petrochemicals or petrochemical derivatives, mineral oils, lanolin, chlorinated water or phthalates. And our products are always carefully made, and always over very low heat, so as to ensure they retain all the natural antioxidants, benefits and nutrients of the original ingredients.
Our Range Contains ABSOLUTELY NO:
– Parabens
– Propylene glycol
– Sulphates (SLS/SLES/ALS)
– Cocamidopropyl betaine
– Artificial fragrances/colours
– Synthetic detergents
– Petrochemicals
– Mineral oils
– Lanolin
– Chlorinated water
– Phthalates
Learn more
Our Main Ingredients
Four Cow Farm uses the best and most nourishing and effective natural ingredients available. You won't find palm or coconut oil or their derivatives as the main ingredients in our products (so no cocamidopropyl betaine or decyl glucoside or coco glucoside) even though they're much cheaper and are used in many other natural and organic products. And that's simply because they're not as effective, soothing and beneficial as the pure cold-pressed olive, macadamia, sweet almond and sunflower seed oils we use which contain the natural vitamins and soothing properties each oil is known to have and is not subjected to synthetic processes. We make our products the best in every way possible – which means selecting not just the right essential oils and fragrances but also top-quality carrier oils, preservatives and emollients. No shortcuts.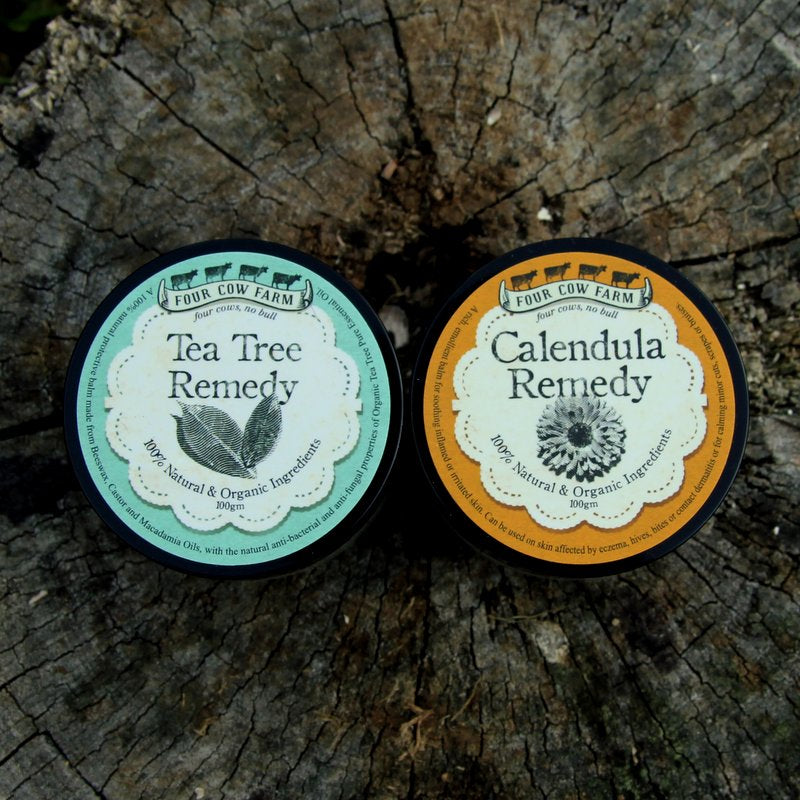 Our Preservatives & Emulsifiers
Unlike other products, we use only premium food-grade preservatives and emulsifiers which have a long history of safe use and which are absolutely safe if ingested, and only in the very tiniest amounts. So natural truly means natural and our products should be cared for in the same way you would care for a food product. Click here to find out more about caring for a truly natural product. (link to the brochure about caring for a natural product)
Our Essential Oils & Fragrances
At Four Cow Farm, our baby products are made with an extremely light touch when it comes to essential oils and fragrances. Unlike other baby products, we do not add lots of essential oils into our products simply because essential oils are extremely potent and must therefore be very carefully used when making products for babies and baby skin, particularly baby skin that's sensitive or prone to irritation or allergies. As baby skin is a lot thinner and more sensitive than adult skin, the essential oils and extracts we use are amongst the safest and most soothing and suitable for baby skin and designed not to overwhelm or trigger an allergic response.
In addition, Four Cow Farm believes in only using essential oils and extracts which have a soothing or other beneficial effect on baby's skin. The mild, sweet scents of our products are a product of the first-rate ingredients we use, and never the product of adding essential oils or other ingredients (synthetic or natural) for their fragrance. The main reason for our emphasis on low-fragranced products is that fragrance is the number one trigger of allergic reactions (the second being preservatives – see our approach to that above) and the use of fragrance is known to have potent effects on our systems, and more so on our babies and children. In any case, we think babies smell pretty perfect on their own.
And where we do use essential oils, we use them in careful quantities in their purest, natural form – we don't use synthetic constituents such as limonene and linalool. That's because the latter are often much stronger and more potent, more likely to cause allergic reactions and more likely to be contaminated by unsafe chemicals in the process of their production. Where the benefits of essential oils are needed, why not use the real thing?
Where there is a reference to 'parfum' in our ingredients lists, that actually refers to a 100% natural essential oils-based preservative (one of the most expensive in the market!) which we use for its naturalness, safety and efficacy. Its inclusion in a product also gives the product a mild vanilla-almond scent although, as we've said, adding fragrance is not its primary role!
And we're all animal lovers down at Four Cow Farm (our cows can attest to that!) so all our ingredients are sourced without the harming of animals. We are also absolutely against animal testing – our products are only ever tested on people, starting with the family itself.